I have a bit of a facination with the humble sock! It is without a doubt the most useful and thoughtful present that anyone can get me. I often find my eyes rolling as the inevitable phrase crops up after the festive season
" …Oh and some socks, you know, boring stuff."
I am affronted by the very notion that socks could be "boring". If this is the case my friend, then you havent been wearing the right ones!
Having spent years in jobs where a uniform is drab and lacking in character, I stamped my personality on the monochrome foundations by choosing socks which were overflowing with personality. Some would say this was a rebellion, and I would 100% agree with this notion – my small battle made me feel better even if it impacted noone else!
Without digressing too much – I am also a wearer of bow ties for work. On my last day of a maternity cover contract, two of my team presented me with a luxury bow tie as a gift. They asked me one question whilst handing it over…
"Why do you always wear a bow tie? We all want to know!"
At my final briefing I explained:
We spend our lives delivering the best customer service that we can manage. And a lot of the time this is still not enough for the people we work so hard for. When a customer is (literally) screaming at me because there is a queue for the toilets, or crying because they were late to arrive – I know that I am wearing a bow tie just to give me joy, no other reason than this. It reminds me, that I am still me in the face of adversity.
Socks serve this same function for me. They are fun. They make me feel warm and snuggly but more than that they bring a little joy to my day.
There are amazing sock brands out there to suit most budgets, so I have a little round up below in case any are of interest to you…
I have been aware of this very swish brand for a while now, and i'll be honest, I am priced out of the market! They are an aspirational brand with celebrity fans including Daniel Craig, Bradley Cooper and Colin Firth. And if you needed another celebrity name-drop, then David Gandy became an investor in 2015 and the brand has never looked back!
The gift set featured above comes in at £72.00 for 6 pairs but I can only imagine the quality and feel. I know DG is very discerning about which brands to put his name to, so I have no doubt that these are the real deal! If only I had the budget to go with the socks!
Happy Socks are the Ronseal of the sock world, how can you look at these designs and not feel, well… Happy? Their designs range from the colourful to the absurd and I love that there is literally something for everyone. On the whole they are a little cheaper than the London Sock Company, but their designs are younger and more techno!
Gift sets are around the £36 pound mark for 4 pairs or you can get collector sets of 6 for £70. This Swedish brand also do a very cute kids range too, if like me you are all about the father son matching outfits!
ASOS are not my favourite people at the moment after a bungled delivery to the wrong address where they left my package on a busy London street (which they claimed was a "safe Place"). BUT these socks were gifted to me this Christmas and I absolutely love them! So they are getting a feature in spite of their appalling treatment of me.
With ASOS you know what you are getting. It will be on trend and generally you get the quality that you pay for. This pack of 5 pairs or sport socks in bright colours, were exactly what I needed to upgrade my #gymlifestyle ! At £14 for the set, they are affordable but also of a decent quality. The elastic holds the shape well and keeps them in place, and there is an interwoven section in the arch of the foot which helps keep a good shape with zero bunching inside the trainers even during a half marathon!
Worth every penny in my humble opinion. My one piece of advice is check every last detail on your account before pressing buy… if I still had the app I would be tempted to buy another set.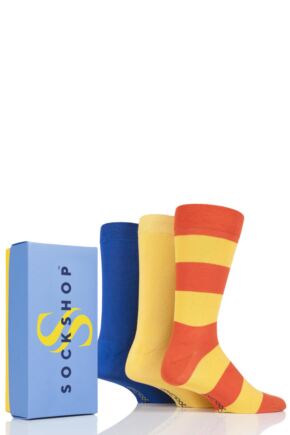 Sockshop.co.uk is a website where you can purchase any number of other brands, but they also have their own range of socks available too. There were a whole range available including some less adventurous styles, but I loved the look of these bright coloured yet more sensible designs that they had on offer. The featured gift set is available in 10 different colour combinations and is retailed at £9.99 for the three pairs (which if you ask me is a bargain). I have yet to purchase a pair from them yet, but as they have a decent sale on at the moment – this might be the moment to get some!
When looking for high end sock gift sets, you cannot miss out Peper Harow. This 7 pair set is a mere £105 but they do entice me with a "Truly british fashion experience". I like the designs and like some of the others featured, the gift box itself is a thing of beauty. This is their best of British collection and whilst I cannot attest to this, what I can see is a set of bloody nice socks!
I would be happy with any of the socks on offer from these brands, and I hope to get my hands on them at some point in the near future… although if i'm honest its unlikely…
With brands like this out there for your delectation, next time you think a gift of socks is "boring" perhaps you should put a sock in it!!!
Let me know in the comments what your fave sock brands are, or a pic of your fave pair #letstalkaboutsocksbaby